HCA Virginia colleague wins 2021 HCA Healthcare's Frist Humanitarian Award
HCA Virginia colleague wins 2021 HCA Healthcare's Frist Humanitarian Award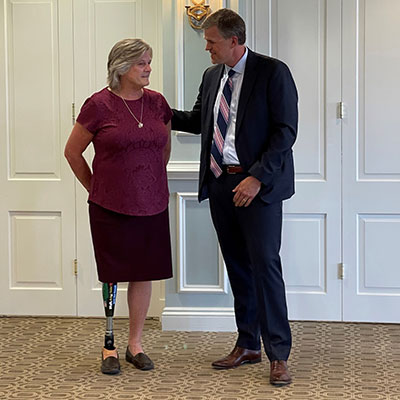 Johnston-Willis Hospital oncology social worker Robin Yoder is this year's national Frist Humanitarian Award Employee Winner, which recognizes her level of commitment, care, and compassion that goes beyond everyday acts of kindness.
In addition to being part of the Chippenham and Johnston-Willis Hospitals' family for more than 30 years, Yoder is an advocate, champion, mentor, friend, triathlete, two-time cancer survivor, and amputee who has positively influenced countless lives in Central Virginia and around the world. Her compassion, paired with her vigilant support of the fight against cancer, is well known among her peers, physicians, and cancer community.
"During her time at CJW, she has really aspired to help patients with cancer understand where they are and then bring them to a new level," said Karen Roesser, director of oncology practice at the Sarah Cannon Cancer Institute at Johnston-Willis Hospital. "She has led the most successful support groups in the Richmond area and developed innovative ways to help people. She is someone who has made such a difference in both the oncology and amputee communities."
Yoder's list of accolades and accomplishments is long. In addition to co-founding the Hawthorne Cancer Center at Johnston-Willis, she has developed adaptive sports programs for the amputee community abroad – recognized as a "Woman of Inspiration" by the Turkmenistan news – launched the Richmond Amputee Support Group, led her breast cancer support group to compete in the Richmond Triathlon, served as the chairperson for the American Cancer Society's Chesterfield County Relay for Life, educated students and developed a program for the nonprofit Mission Gait, and much more.
Created in 1971, the Frist Humanitarian Awards are a tribute to HCA Healthcare co-founder, Dr. Thomas Frist Sr., and his lifelong dedication to improving the lives of others. Each year, the three award categories – employee, volunteer, and physician – recognize colleagues whose generosity, dedication, and heart reflect the HCA Healthcare mission to care for and improve human life. Yoder will be honored during the formal awards ceremony on Sept. 23 in a live streamed event.
"Robin's focus is on other people, and that really embodies what the Frist Humanitarian Award is truly about," said Johnston-Willis chief executive officer Zach McCluskey. "On my behalf, on [HCA Healthcare chief executive officer] Sam Hazen's behalf, and on her colleagues' behalf, we wish her the most incredible congratulations."
Related Patient Stories Posts
For CJW's Robin Yoder, June 6 isn't only Cancer Survivors Day, it's a reminder of making the best of a life interrupted by cancer
For CJW's Robin Yoder, June 6 isn't only Cancer Survivors Day, it's a reminder of making the best of a life interrupted by cancer
Kelly Ryan, a mother of three has lived in Ocala for 30 years. Kelly considered herself to be a pretty healthy woman as she was a runner and spent time kayaking and travelling with her family. That's why following a seizure episode on March 27, 2020, Kelly thought it was just dehydration.
August 12, 2020
Ocala Surgical Group
When Linette's primary doctor referred her to Dr. George Rossidis for an abnormal mammogram that showed a left breast lesion, she considered herself very lucky.