Davie
Our neurosurgical practice cares for patients suffering from brain, spine and nervous system conditions. Learn more about our services and Davie office.
Address
7630 SW 34 Manor
Suite 300
Davie, FL 33328
Office Hours
Mon - Fri: 8:30am - 5:00pm
Sat - Sun: Closed
Get directions
High-quality neurosurgeons
Our neurological surgeons provide the community of Davie, Florida, with outstanding treatment for a range of nervous system disorders.
Neurological disorders we treat
Our neurosurgeons are able to provide surgical care for a range of conditions that affect the brain and the nerves, including:
Acoustic neuroma
Brand and nervous system tumors
Brain aneurysm
Brain cancer
Cerebral hemorrhage
Cerebral vascular disease
Craniopharyngioma
Degenerative disc disease
Disc herniation
Epilepsy
Foraminal stenosis
Hydrocephalus
Lower back pain
Meningiomas
Spinal cord injury
Osteoarthritis of the spine
Post laminectomy syndrome
Radiculopathy
Secondary malignancies
Spinal stenosis
Spinal tumors
Spinal deformities
Spine fractures
Spine myelopathy
---
Brain surgeries we perform
Thanks to the skill of our surgeons and the technology our practice has, we are able to perform a range of delicate surgical procedures using radiosurgery and stereotactic radiosurgery techniques. Some of the procedures we offer include:
Brain tumor surgery
Cerebral-spinal shunts
Chiari malformation surgery
Craniectomy
Craniotomy
Deep brain stimulation
Endoscopic pituitary tumor
Neuroendoscopy
Pituitary gland tumor excision
Pituitary tumor surgery
Shunt surgery
---
Spine and disc procedures we perform
We also provide many advanced spine surgeries, including robotic and image-guided spine surgery. We perform procedures such as:
Cervical spine surgery
Complex spine surgery
Disc replacement surgery
Dural repair and other spinal cord repair
Herniated disc surgery
Kyphoplasty
Lamina procedures
Lumbar spine surgery
Microdiscectomy
Spinal compression fracture repair
Spinal discectomy
Spinal fusion
Spinal internal fixation
Spinal nerve block
Spinal reconstructive surgery
Ulnar nerve decompression
Vertebroplasty
---
Neurological disorders we treat
Brain surgeries we perform
Spine and disc procedures we perform
Meet the Neurosurgeons in South Florida
HCA Florida Neurosurgical Specialists is the best option for all neurosurgical treatments. The team skillfully performs a wide range of highly specialized surgeries including brain tumor surgery, cerebral-spinal shunts, craniectomy and craniotomy, deep brain stimulation and other procedures to address your brain, spine and nervous system conditions.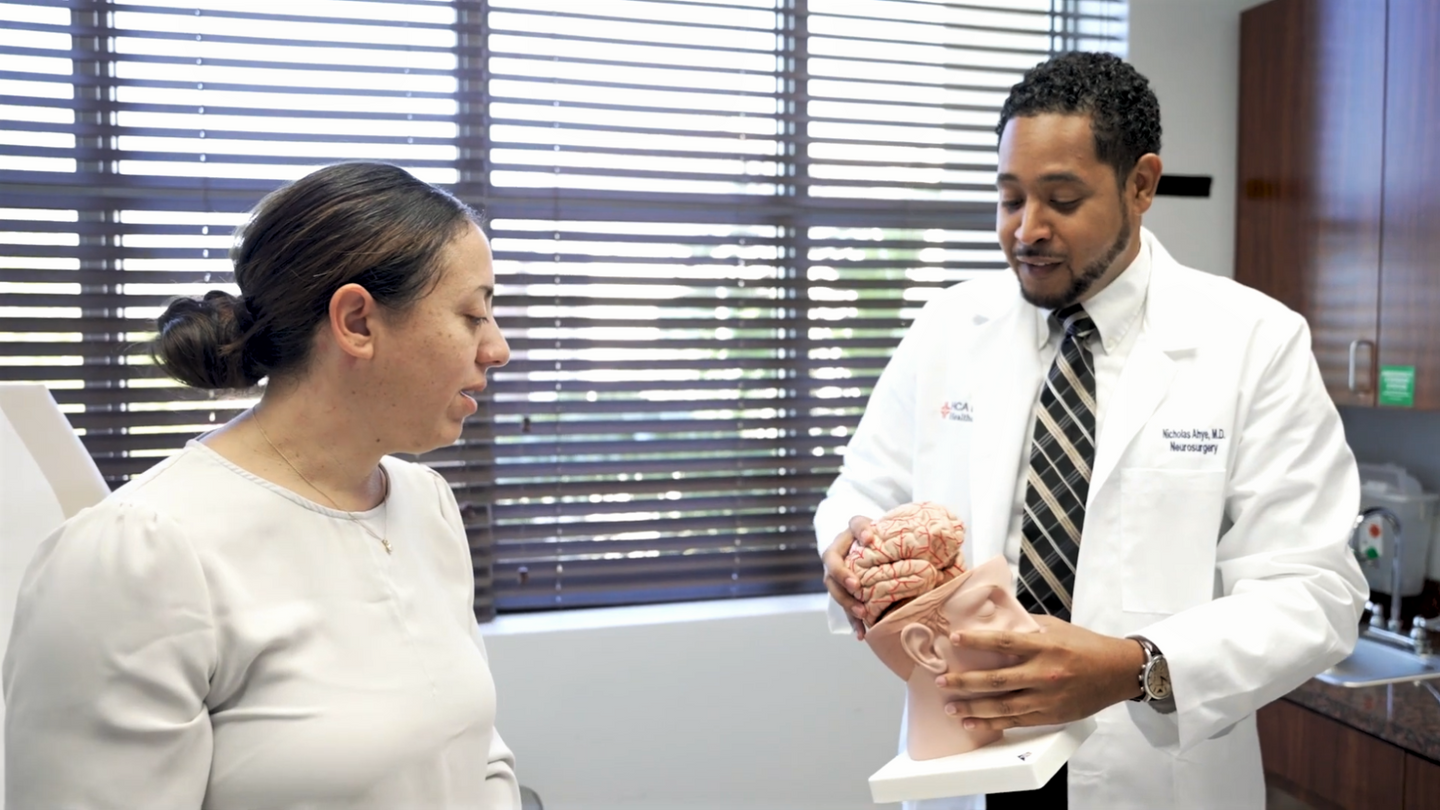 Managing your care with Health Portal
Health Portal facilitates better communication with your physician's office from the comfort and privacy of your home or office.
Access to Health Portal
Getting here
Get directions and contact information for our office.
Neurosurgical Specialists - Davie
Address
7630 SW 34 Manor
Suite 300
Davie, FL 33328
Office Hours
Mon - Fri: 8:30am - 5:00pm
Sat - Sun: Closed
Get directions