Largo Medical Center first to offer new treatment option for heart disease
Largo Medical Center first to offer new treatment option for heart disease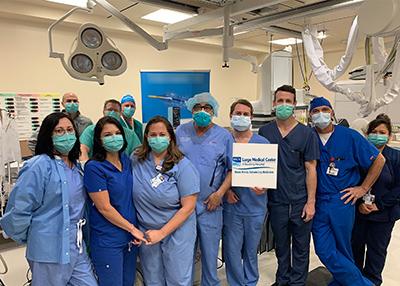 Largo, FL — Largo Medical Center is the first in the Greater Tampa Bay area to offer an innovative new treatment option that removes severely calcified coronary plaque.
According to the Centers for Disease Control and Prevention, heart disease is the leading cause of death for both men and women with about 655,000 Americans who die each year. As people with heart disease grow older and their disease progresses, plaque in the arteries evolves into calcium deposits, which can narrow the artery.
The new technology, now offered at Largo Medical Center, treats calcium buildup and is an innovative adaptation of lithotripsy, an approach used for decades to safely break up kidney stones. It uses sonic pressure waves, also known as shockwaves, that pass through soft arterial tissue and preferentially disrupt calcified plaque by creating a series of micro-fractures. After the calcium has been cracked, the artery can be expanded at low pressure and a stent safely implanted to improve blood flow, with minimal trauma to normal arterial tissue.
"The cardiology team at Largo Medical Center is steadfast in our commitment to give our patients access to the latest cardiovascular innovations to treat heart disease," said Merrill A. Krolick, DO, Interventional Cardiologist and first to perform at Largo Medical Center. "It's exciting to be starting a new chapter in the treatment of heart disease in some of our most complex patient cases after using the same tools for the last 30 years – especially one that improves the safety of the procedure for the benefit of the Largo community."
The community can learn more about their own heart risk by taking our healthy heart check-up.
Location:
HCA Florida Largo Hospital, The Heart Institute of Largo