Neva Holland
Ten years ago, Neva Holland learned she had advanced ovarian cancer.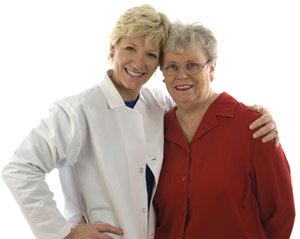 In the ten years since Neva Holland was diagnosed with ovarian cancer, she says Dr. Daylene Ripley has become like a daughter to her. Neva credits Dr. Ripley with saving her life and says she is happy to drive from Tallahassee for the care she receives at Gainesville GYN Oncology.
Neva Holland is one of those women you meet that you won't easily forget. Ever. That's true for a variety of reasons. She has an unusual sense of humor. She asks direct questions and looks you straight in the eye while waiting for answers. Neva is just downright sassy. But it is the story of what she has survived that is what makes Neva even more memorable.
Ten years ago, Neva Holland learned she had advanced ovarian cancer. The news was so devastating that it weakened Holland's normal strength into momentary acceptance of something she did not think she could overcome. "What I thought about was how to get ready when I had only a month or two to live. At first, that's all I could think about."
Published:
January 09, 2020
Location:
Gainesville Gyn / Oncology of NFRMC