Sonia Hylton is a happy and healthy 65-year-old enjoying retirement in Ocala. Or at least she thought she was until what happened one night that awoke her from her sleep. It was excessive bleeding, and it confused her at first. She and her husband actually looked for objects in her bed, thinking that caused the bleeding. They found nothing, and they both knew she needed to see her doctor.
In talking with her primary care physician, Sonia she explained to her physician that she was experiencing cramps, in addition to the episode of bleeding. Her physician recommended testing to find the answer about what was happening. After a sonogram and pap smear, her gynecologist suggested she see Dr. Daylene Ripley, a gynecologic oncologist who specializes in women's cancers. Dr. Ripley's practice, Gainesville GYN Oncology, is on the campus of North Florida Hospital.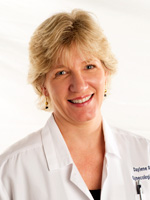 After reviewing test results and performing her own investigative work, Dr. Ripley shared difficult news with Sonia. On the down side, she had endometrial cancer. On the up side, her cancer was discovered in the earliest stages when treatment can be very effective. Sonia's quick response to her symptoms was smart, and it would make a big difference in her life.
"Dr. Ripley was very warm with me, and I needed that," Sonia remembers. "She explained everything to me – what to expect, what not to expect, what to do, what not to do. She greeted me with a big smile, and from then on, I knew she was fully taking care of me."
Dr. Ripley, who is also an advanced robotic surgeon, felt Sonia's best option to remove cancerous tissue was robotic surgery using one of two daVinci SI Surgical Systems at North Florida Hospital. After that, physicians would know if Sonia might also need chemotherapy, radiation or any additional surgery.
"I was nervous, and I was afraid of cancer because I know it's a deadly disease, but Dr. Ripley and her physician's assistant comforted me. They answered all of my questions and explained everything to me," Sonia says. "They explained to me that I would only have to spend one night in the hospital, and my recovery would be easier and faster because of robotic surgery."
Dr. Ripley performed Sonia's surgery through six tiny openings in her abdomen. The incredible accuracy delivered by the daVinci SI Surgical System gives Dr. Ripley extremely clear views of exactly what's happening inside a patient. She actually operates from outside the body and performs very complex movements through very small openings in the patient's skin. Sonia's procedure went smoothly. Dr. Ripley checked in with Sonia after the procedure to reassure her that everything went well. Sonia's loved ones where also informed that the surgery was a success.
"After the operation, she came back to my room to let me know everything went well," Sonia says. "She told me that I can call her anytime with any questions, and I know that I can."
After the surgery, Sonia went to see Dr. Ripley for follow-up visits to verify her recovery was proceeding as planned. The day came when Dr. Ripley told Sonia she could return to her normal routine and her active life.
For Sonia, that meant back to the things she loves. That includes music. She performs with her church and attends concerts with her husband. She and her husband have been friends since they were children. In addition to church activities, they also love to travel. These days, there is nothing stopping Sonia from the life she loves.
Published:
December 12, 2017
Location:
HCA Florida North Florida Hospital, Gainesville Gyn / Oncology of NFRMC