Dean Montgomery
When Dean Montgomery stepped out of his golf cart to swing his club when playing a round of golf with friends, he had no idea how his life was about to change. "All I remember was stepping onto the 3rd green and the next thing I knew, I was waking up in the ICU."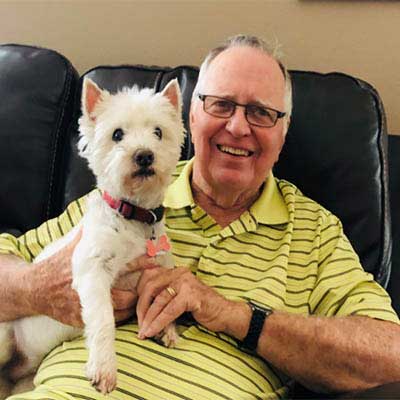 When Dean Montgomery stepped out of his golf cart to swing his club when playing a round of golf with friends, he had no idea how his life was about to change. "All I remember was stepping onto the 3rd green and the next thing I knew, I was waking up in the ICU."
When Dean Montgomery stepped out of his golf cart to swing his club when playing a round of golf with friends, he had no idea how his life was about to change. "All I remember was stepping onto the 3rd green and the next thing I knew, I was waking up in the ICU." While playing golf, Dean had suffered an ischemic stroke. Luckily, the friends he was playing with were familiar with the signs and symptoms of a stroke and noticed Dean was slurring his words prior to passing out on the 3rd green. His friends immediately called 911.
The EMS crew recognized that Mr. Montgomery had experienced a stroke and needed to be treated at a Comprehensive Stroke Center. Mr. Montgomery was immediately rushed to Ocala Hospital, the region's only Comprehensive Stroke Center. The EMS crew arrived with Mr. Montgomery and he was immediately evaluated.
It was discovered that Mr. Montgomery needed a procedure done to remove the clot from a vessel in his brain. Dr. Nikfarjam performed the procedure and when Mr. Montgomery woke up in the ICU, Dr. Nikfarjam dubbed him the "miracle man" because of how "everything came together with precision on the timing," from the EMS crews arriving to the scene, to them getting Dean to the hospital and under the care of Dr. Nikfarjam. "I was really impressed with the service and the care of all of the nurses and also of Dr. Nikfarjam's expertise. I do not like being in the hospital but the team at Ocala Regional took great care of me."
Dean is on the road to recovery and is looking forward to getting back out on the golf course again. He believes he "got a second chance" and is grateful to the team at Ocala Hospital that took care of him.
Published:
February 18, 2020
Location:
HCA Florida Healthcare