Former refugees help save lives at HCA Florida Healthcare
Once European refugees, Jasmina Katinic, DNP, the director of the Structural Heart Program for the HCA Healthcare West Florida Division and her husband Josip Katinic, DNP, with the HCA Florida Heart Institute's Cardiac Electrophysiology and Pacing Clinic, now provide expert cardiac care to Florida patients.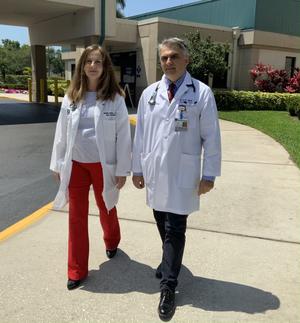 Seeing thousands of Ukrainian refugees make the dangerous journey to other countries in Europe brings back memories for Jasmina and Josip.
High school sweethearts in Yugoslavia, the couple was torn apart by the outbreak of the Croatian War for Independence in 1991. Jasmina was moved to a safer part of the country while Josip stayed behind in their hometown to fight in the army. Communications in the days before email and social media were difficult, and for several years the couple was not able to get in touch.
In 1993, Josip managed to get to Germany and Jasmina followed in 1994. They found each other again, married in Germany and were soon faced with a decision; should they stay in Germany, or try to immigrate to the United States which had a program that accepted refugees from the former Yugoslavia?
"We both dreamed of pursuing higher education, but that wasn't going to happen in Yugoslavia. Plus, we had no homes left to go back to," said Josip. "A lot of our family and friends were going to the USA, so we went to the U.S. embassy in Frankfurt to ask if it would be possible for us to go to America, get visas, attend school, and work."
The answer, to their delight, was yes. In 1998 Catholic Charities arranged for the couple to fly from Germany to Davenport, Iowa to begin their new lives. 15 days after arriving in Iowa, the couple called a taxi and asked the driver in their limited English if he would drive them to the university. There they met with an advisor who registered them for English as a Second Language classes.
The Katinics both knew they wanted to pursue healthcare professions. They first started taking chiropractic classes but found them a little limited. They considered going into dental hygiene, but there was a two-year wait to get into the program, and they couldn't wait that long. They began looking into another interest, nursing, and there was no wait to get into that program.
"We soon realized how much we liked it, and eventually we both fell in love with cardiology," said Josip. "We continued to pursue cardiac care, and that led us to where we are now – both working in cardiac specialties at HCA Florida Healthcare."
"So many of our accomplishments, we wouldn't have been able to achieve without all of the people we've met along the way who wanted to help us and mentor us, sharing their knowledge," said Jasmina. "We have really experienced the 'Care Like Family' value throughout our careers, so HCA Healthcare's mission really spoke to us. We wouldn't be here today without the people who embodied this philosophy, so we've adopted it as our own mantra and personal mission, as well."
Today the couple is happily settled in Tampa Bay and are parents to two sons "and two cats, who are also our babies," Jasmina added.
"I thank God every day for leading us here, because HCA Healthcare takes care of us as well as our patients," she said. "I work with the greatest people ever, which was proved to me when I saw how hard all of the practitioners worked during the height of the pandemic. Plus, I get to change people's lives working at HCA."
Josip agreed, saying, "I work in an arrhythmia clinic with nationally recognized electrophysiologists, and we have great support from the company as we pursue professional growth and excellence. We really are so grateful for the opportunity to share our story, and we want to thank HCA for all of the opportunities it has offered us. In the USA and in companies like HCA, there are so many opportunities. You just have to be willing to take advantage of them."
Related Patient Stories Posts
December 26, 2021
Heart and Lung - Fort Walton Beach
As far as the hospital experience, I think that's about as good as you could get. I'm just so thankful for that procedure, that Dr. Patel was able to do on me without opening my chest up. He did just a great job.
My husband, my daughter and my family have been so incredibly supportive. And I love the people in Cardiac Rehab. They have been a blessing.