Jen Stratton
Cutting-edge procedure significantly improves quality of life for patients with debilitating tremor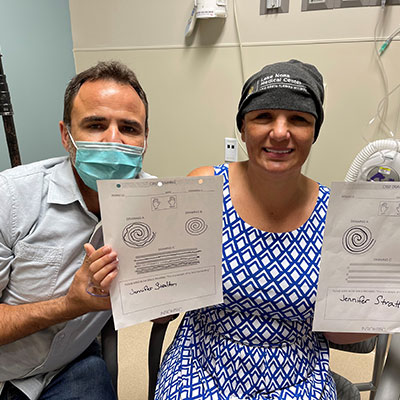 Cutting-edge procedure significantly improves quality of life for patients with debilitating tremor
At six years old, Jen Stratton was diagnosed with essential tremor. The condition, a neurological disorder causing involuntary and rhythmic shaking throughout the body, has been a difficult hurdle throughout Stratton's life. Jen, now a successful businesswoman and mother of two daughters, had to fight through the challenges of essential tremor for years and it has affected everything, from dating to parenting to finding success in the financial industry.
While Stratton has made accommodations for the tremor, it has presented many unique struggles for her throughout her personal and professional journey. She couldn't cut her daughters' nails when the girls were growing up, and while she can cook and do her makeup, she calls her hands "a bit of a guessing game," as to how cooperative they'll be. Even a relaxing evening out at a nice restaurant can be mentally exhausting as Jen tries her best to keep her knife and fork from rattling against her plate.
"Where I struggle most with my tremor is with the perception others have of me in social situations," Stratton said. "My body reacts to a little bit of nervousness with a lot more tremor than I have when I'm resting, so I can be perceived as not being able to handle a normal interaction with other people. I just want my outside to match my inside."
On her worst days, which are caused by extra stimulus or loud noises, nervousness or tiredness, Stratton is unable to type on her computer or insert her house key into the lock. At those times, she calls her tremor debilitating.
In her career as a chief financial officer, Stratton says she is often the only woman in the room, which itself can be difficult. She says the tremor often makes people think she is having a panic attack or crying in the middle of a meeting. "In certain situations, it can seem like I am in distress, so people worry and are more concerned about my emotional state than listening to what I have to say," she explained.
While there are medications that can treat essential tremor, Stratton has never found success with them.
"All of them had side effects that just were not acceptable for my life," she said. "They either affected my mind or my body to the extent that I couldn't handle them. Some surgeries have been suggested to me, but I've decided against those options. I felt it wasn't worth it to have a surgery that could have worse side effects or risks than the tremor."
Stratton reconsidered when she heard about Incisionless Brain Surgery, now available at UCF Lake Nona Hospital. Using focused ultrasound guided by magnetic resonance imaging (MRI), the innovative, scalpel-free therapy directs targeted sound wave energy deep into the brain, treating the tissue that causes a tremor. No surgical incision or anesthesia is required; approval at this time is for treatment of one side of the brain only.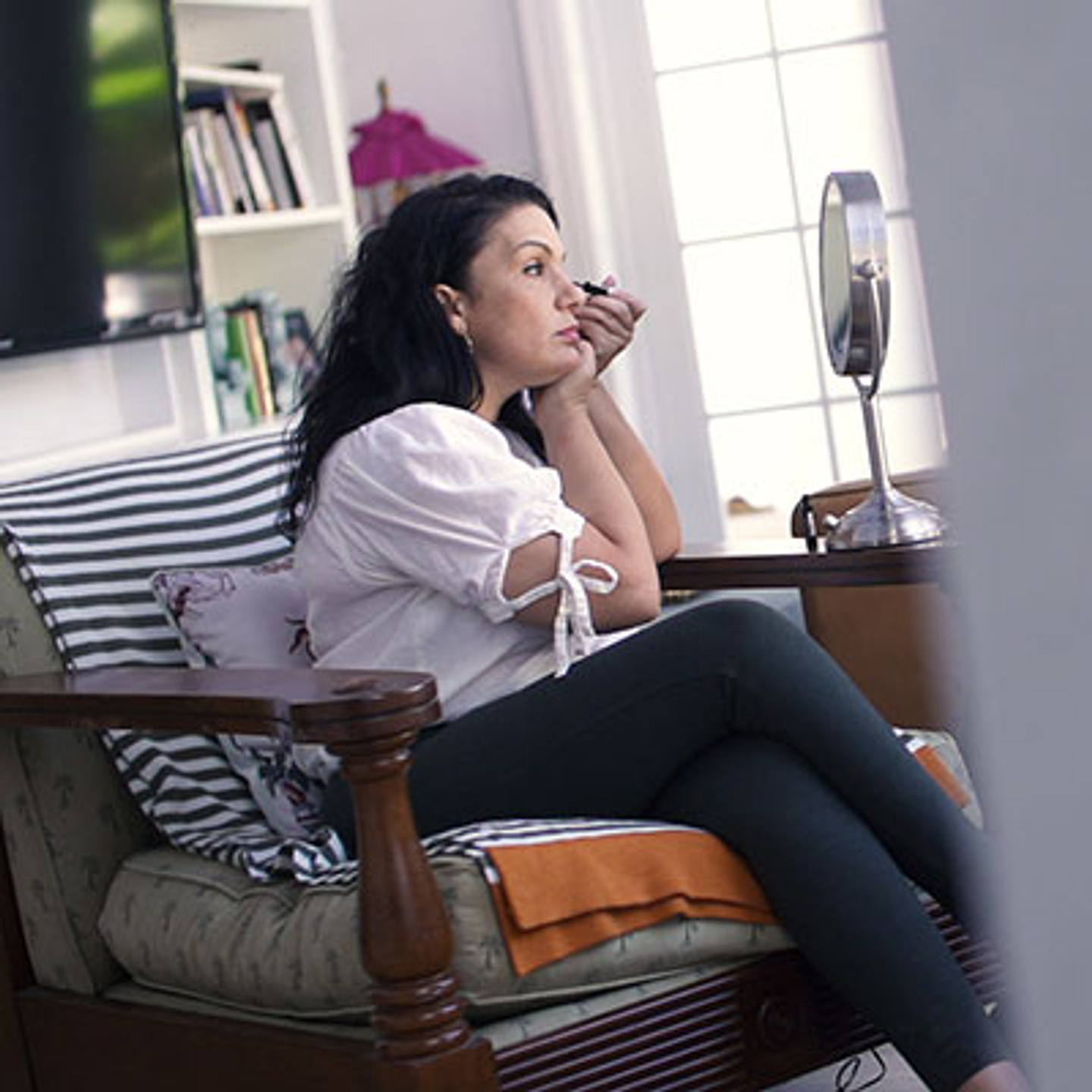 Ahead of the procedure, Stratton said she was "so excited to watch the tremor turn off, so I can go about my life and not cast a false perception about myself."
"I want to do normal things without having to make accommodations, like meeting someone, shaking their hand and giving them a glass of water without it being noticeable that I'm having a severe tremor," she said. "I'm anxious to paint my own nails and cook and use a knife much faster. Even more, I'm looking forward to getting older and not having the fear that this tremor is going to become much worse than it is now. I can't wait for the outside to match the inside, and for everyone to see how confident I really am."
Up before the sun on the day that would change her life, Jen arrived at UCF Lake Nona Hospital filled with excitement to prepare for her procedure, which included taking a pre-procedure writing assessment and having her head shaved. After a few hours in the MRI suite, Jen was completely free of the tremor that had afflicted her for so many years. All smiles, Jen was wheeled into the room to greet her family and the hospital staff, exclaiming, "I'm so happy you guys. You can't imagine!"
This was truly a mission moment caring for our patient and an amazing experience to see innovation in action at the hospital of the future, UCF Lake Nona Hospital. Above all else, we are committed to the care and improvement of human life.
Jen Stratton's Journey with Essential Tremor — "I just want my outside to match my inside."
Location:
HCA Florida Healthcare