Robin
For CJW's Robin Yoder, June 6 isn't only Cancer Survivors Day, it's a reminder of making the best of a life interrupted by cancer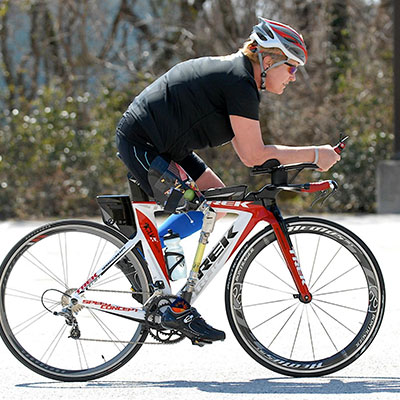 National Cancer Survivors Day is held annually June 6. The day provides an opportunity for cancer survivors to connect with each other, celebrate milestones, and recognize those who provide support. It's a day that Robin Yoder, oncology social worker at Chippenham and Johnston-Willis Hospitals' Sarah Cannon Cancer Institute, holds very dear to her heart as a two-time cancer survivor and an advocate for thousands of cancer patients throughout her 30-year career at Chippenham and Johnston-Willis Hospitals.
Her passion for helping others was formed early in her life when she was diagnosed with an osteosarcoma in her right leg, which ultimately changed the course of her life. At 18, Robin had plans to play Division 1 basketball in college, but due to her cancer diagnosis, her scholarships were rescinded and she and her family moved to Florida so she could undergo a limb sparing surgery followed with radiation treatments under a novel program at the University of Florida at Gainesville. During this time, she and her family were shown many kindnesses: hotel guests took her family to dinner, hotel staff threw her a high school graduation party, and her high school raised money to fly her family home to attend her graduation. Although this was a time of great trial for Robin, it planted the seed of always recognizing the goodness of people. She then earned her undergraduate and master's degrees and traveled as a Peace Corps volunteer before beginning her career as an oncology social worker at CJW. There she formed multiple oncology support groups, chaired events to advocate for survivors, and won multiple awards for her exceptional service and compassion.
While training for an Ironman in 2010, Robin noticed a lump in her leg that was later diagnosed as a second and new sarcoma related to a complication of the radiation she received 30 years ago. This ultimately resulted in the amputation of her right leg high above her knee. The compassion she was shown during this diagnosis, treatment, and recovery furthered her desire to care for her patients.
Even after all these years, with each time she shares her incredible story of survival comes healing. It is advice that she shares with her community of cancer survivors.
"During my first Cancer Survivors Day event, I felt special," she said. "I felt empowered. Cancer was a badge of courage and not something that I felt shame for. It is hope in motion."
Robin has used her athletic ability to help sustain her over the years, which is a skill she uses with her patients, too. "I try to find out what is special about my patients and help use it to empower them, so cancer doesn't define them," she said.
She describes cancer as a marathon, not a sprint. She said, "Answers don't come quickly. The sooner one can understand and accept that fact, the easier it will be over time to cope with the ambiguity of it all. Big goals are nice, but I would rather set small and meaningful ones that I can accomplish daily, so one can build upon the other."
Robin didn't lead the life she thought she would, but she used it to fuel her passion for helping others. Her diagnosis led to many wonderful experiences and adventures. She has carried the Olympic torch, she holds two world records for Paralympic indoor rowing, and she has been invited to speak at conferences across the world, but what she is most proud of is the community of support she has helped create at the Hawthorne Cancer Resource Center at Johnston-Willis.
"The Hawthorne Center represents the richness of the human spirit," she said, "It's a special place to support one another through this journey."
Related Patient Stories Posts
Kelly Ryan, a mother of three has lived in Ocala for 30 years. Kelly considered herself to be a pretty healthy woman as she was a runner and spent time kayaking and travelling with her family. That's why following a seizure episode on March 27, 2020, Kelly thought it was just dehydration.
August 12, 2020
Ocala Surgical Group
When Linette's primary doctor referred her to Dr. George Rossidis for an abnormal mammogram that showed a left breast lesion, she considered herself very lucky.